"It's the last day of this schoolyear. Soon I'll be a 5th grader: MOSSUGU 5-NENSEI NI NARU!" 4-3 of TOBATACHUO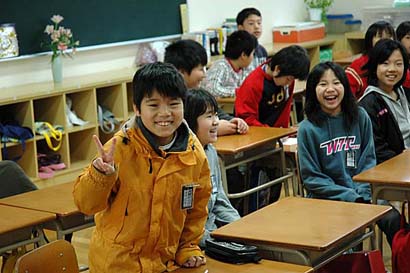 You might wonder what problems I encountered working at Japanese schools or in Japan in general.
First of all, communication doesn't always work (for me) in Japan. Once a colleague thought she had to criticise me for someting I was wearing which she thought wasn't appropriate. Instead of telling me, she told other colleagues who then told the kyoto and kochoo sensei (vice principal and principal) who then assigned yet another teacher to tell me. I was really disappointed and told the person in question but she just smiled an embarassed smile.
In Tenraiji there was an alert once that a gangster who had robbed a nearby drugstore was probably hiding on the school premises. It was false alarm in the end. If anything like that happens there is no guarantee that any of the Japanese teachers will make sure the gaijin also knows what's going on. Learning Japanese and enquiring/asking a lot is a must. Several times schools changed their timetables for the English lessons but forgot to tell me. So one morning when I was still preparing my materials and thought I had about 45 minutes still 40 kids entered the room (which was a mess...): "Harrro, Katharina-sensei!" I have to say it quite helped to improve my improvisational skills.
There were also several typhoons (due to which some days were free, hooray!) and earthquakes (so "untypical" for this region of Japan which had none in 60 years but they did happen when we were around!) Thanks, MOTHER EARTH, for making sure I got the complete package of a JAPAN EXPERIENCE :-).