Souji (= cleaning) after lunch break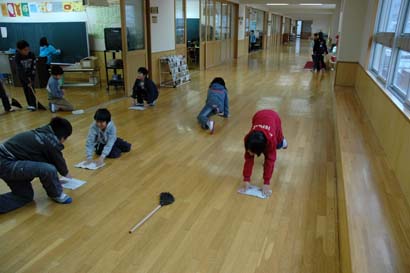 I had some very interesting lessons, for example during Christmas time when the students drew what they would like from Santa. Among the most popular whishes were computer games (and especially the new PSP) and skating shoes. But there were also kids who wanted a dog or a cat or –very modestly- just a book. Some of the 5th and 6th graders' girls wanted love (!) or a boyfriend and some of the boys power and even a whole country. One was more explicit saying he would like to have Hawaii.
The 6th graders also drew what they wanted to be in the future. From sushi chef to geologist or train conductor they had lots of ideas, however the most popular one among the girls was hairdresser and among the boys baseball player. I noticed that in each class there are some excellent "cartoonists" (Manga style, of course) and that is also what some want to do for their living.