Farewell
From October 1st I am a student once again doing the last level of the Japanese language course for foreigners that is offered at the University of Kitakyushu.
Saying goodbye to my four schools was really sad as I have come to love the kids there teaching them for over a year.
I got lots of beautiful pictures, letters (that will be really good for my Japanese practice) and other small gifts here and there plus two big flower bouquets and took many pictures. Of course I had to hold the obligatory farewell speeches. After one week of goodbyes, beautiful last encounters and also tears I was really exhausted!
My favourite 6th graders at Fukamachi elementary school gave me this picture with the title "English time was very enjoy!"
It was drawn by MISAKI, NANA and ERI (really talented girls): THANK YOU!!!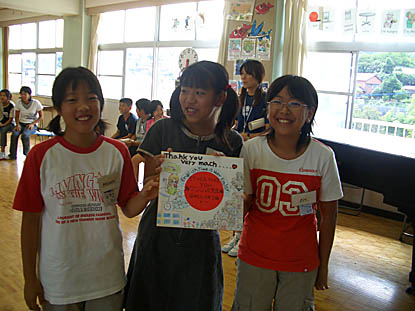 I still got lots of pictures to share with you and also a few more stories to tell, i.e. will still continue this blog. Since I am still in Kitakyushu, I can stay in touch with my schools and visit them sometimes.
On today's picture you can see one of my last school lunches ("kyushoku"). Most of the times it was tasty and definitely always healthy and balanced. However, I am not a big fan of the dried fish and nuts snack (entire fish with eyes and everything!) even though it might be good for my teeth. Also some versions of seawheat (the brownish slimy one for instance) aren't among my favourites. Curry rice (KARE RAISU) is and it also ranks number one among the students' favourite dishes.