Worldclub and Concert
In November and December of last year I had the chance to visit some of my schools again ("natsukashiiiiiiiii"). In Tobata I attended the school concert of Tobatachuo which was quite impressive. All grades participated and performed on their recorders, drums, in choirs and solo. Some wore beautiful (Korean - Che sensei's influence!! or fairytale) costumes. The theme of the second graders' performance was ("Iroirona kuni no uta-asobi - songs and games of different countries"). They also sang a German song (the Cuckoo song) and mentioned "This was a song of Wanjohi sensei's country!"
Japanese kids stay in school until at least 4 p.m. and therefore have lots of extra activities to do in the various clubs (basketball, theatre, karaoke, table tennis and so on).
In the worldclub I taught the students some expressions like greetings in German. The students were amused to here that we use "Ah, so desu ka" almost in the same way as it is used in Japanese and with the same intonation, too: "Ach sooooooo". They also had fun with the Maru-Batsu (true or false) game about Germany and I gave out some prizes that the German embassy had sent me (posters of the Alpes, brochures etc.) Finally we watched a video about Munich and listened to some German music (yodelling as well as "Die fantastischen Vier").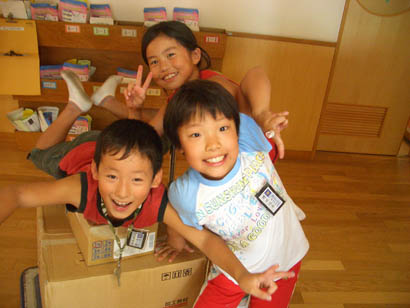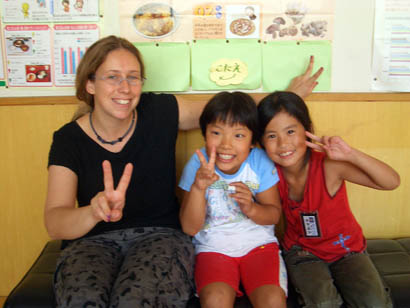 Nakayoshi - having fun with some of my friends of the third grade (Tobatachuo)